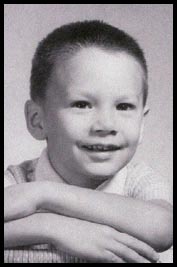 At at 5, Mike Ching was amazed by magic as he saw magician MARK WILSON float lovely NANI DARNELL in the air and thought to himself, "What a COOL job!" He then read every magic book he could find in the Pauoa Elementary School Library, the Hawaii State Library, and Kalani High Library where his dad, "FALCONS" coach WILFRED CHING worked.
Check Mike's latest Comments & Testimonials!

Mike's family is eclectic and creative. His brother is celebrated native wildlife artist PATRICK CHING. His sister LISA VIDINHA heads Kuakini Hospitals Respiratory department. His "baby" sis COLETTE is a Navy communications specialist. Mom & Dad NORMA & WILFRED CHING are retired Educators from Lanakila Elementary and Kalani, respectively.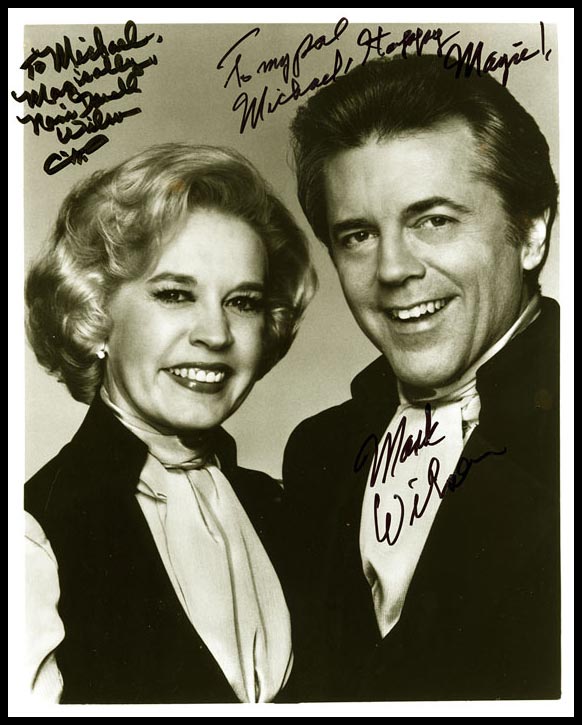 Unable to afford expensive magic props, Mike began to make his own out of cardboard, paper, rubber bands, and scraps of plastic, designing many original ideas in the process. He soon taught himself carpentry and, on his own and at age 14, began building big stage Illusions. (Photo at right - Mark Wilson and Nani Darnell of "The Magic Land of Alakazam")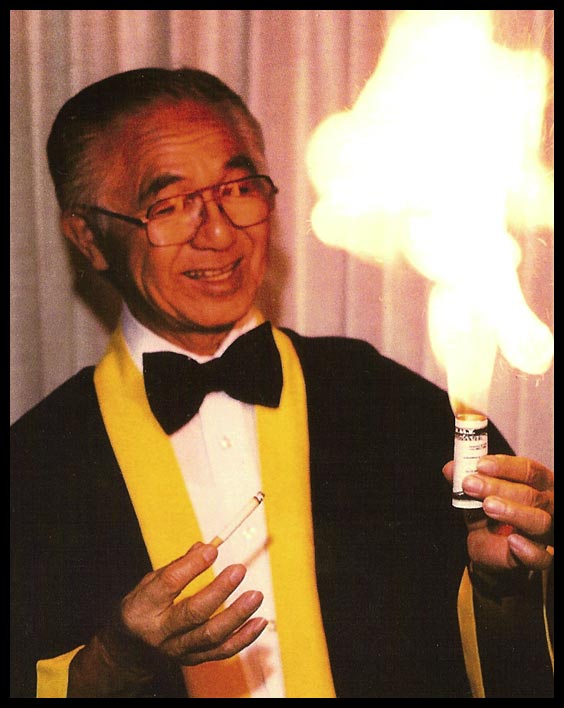 At age 6, Mike's first real magic teacher was the Legendary Jimmy "Tengu" Yoshida (Photo at left), "Hawaii's Godfather of Magic". At age 11, Mike hooked up with a gang of 5 young magicians (known locally as "the Wild Bunch") and, on weekends, began doing shows "professionally" for $25.
Graduating from Moanalua High School, Mike became a Communications & Theater double-major at both Leeward Community College and the University of Hawaii Manoa. Mike has always excelled in sales and entertainment. While in college, he narrated SEA LIFE PARK'S "Ocean Science Theater" and "Whalers' Cove" Shows. (Photo at right - High School: Preparing To Levitate Ms. Vernette Ferreira)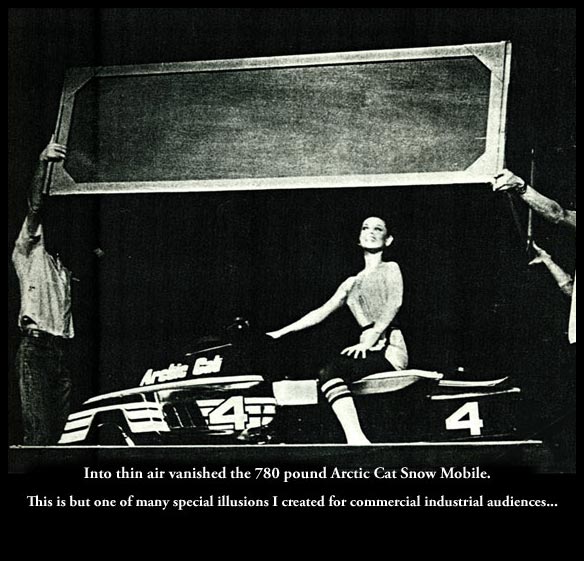 In his 20s, he was a staple in Hawaii's booming Convention Industry. He created special characters for themed parties and flew to the neighbor islands and the mainland to perform Stage and Strolling Magic for huge firms such as PILLSBURY, the LA DODGERS, APPLE and WANG COMPUTERS. Weekends were spent reporting NEWS on the KAIM Radio Show hosted by" HAWAII FIVE-O" Star KAM FONG. (Photo above left - "Into thin air vanishes the 780-pound ARCTIC CAT Snowmobile ..." This is one of many original Illusions Mike produced for Convention audiences)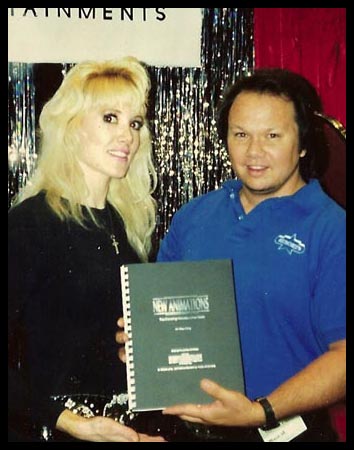 A lifelong fascination with objects that float in space led to his 1991 Magic Book "NEW ANIMATIONS" which was quickly snapped up by Pro Performers. Magicians from around the world considered it to be the best book of its kind. (Photo at right - MELINDA owns a copy of Mike's book "NEW ANIMATIONS")
Lately, Mike has been enthusiastically consulted by top Las Vegas magicians for his original ideas & designs. Performers such as "Magician of the Year" JEFF MCBRIDE called to arrange use of Mike's original "Floating Dragon Pearl" effect (©2004). Even the biggest Magician on the Strip today, LANCE BURTON acknowledges that he often reads Mike's "Dancing Handkerchief" book and has began doing a version of the effect in his deluxe show at the MONTE CARLO.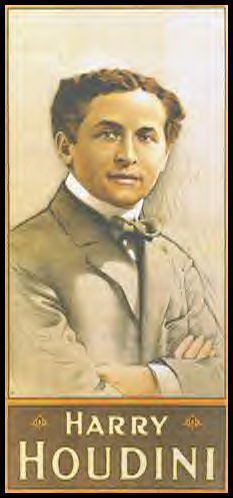 Other famous magicians who own Mike's book include SIEGFRIED & ROY, DAVID COPPERFIELD, MARK WILSON, "DIMMARE", KEVIN JAMES, JOSEPH GABRIEL, THE PENDRAGONS and NEIL PATRICK HARRIS (better known as "Doogie Howser, MD").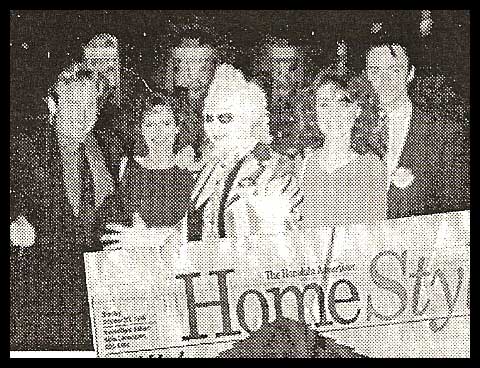 Mike is the past President of the Society of American Magicians (S.A.M.), and has won Awards in every Magic or Comedy competition he ever entered. He consults on many Shows, Conventions and Waikiki Productions: Frank DeLima, Glenn Medeiros, "Yes!", "Yes! Encore!' and Ken Noyle's theatrical séance production "Phantasma" at INDIGO. When Jon Hirokawa was first planning "MAGIC OF POLYNESIA", he called Mike for advice nearly every other day. Mike directed Jon's original show at the HALE KOA HOTEL and created several Grand Scale Illusions for the CHINESE BICENTENNIAL BANQUET and the MISS HAWAII PAGEANT. (Photo above right - Mike winning a Magician's Costume Ball as BEETLEJUICE with the PENDRAGONS and LANCE BURTON)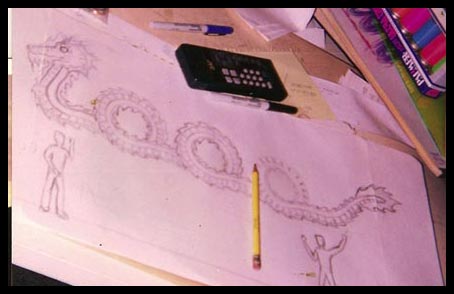 Mike also designs effects for some of Hawaii's best-known entertainers. Among the celebrities Mike has encountered during his career are: JACK LORD, TOM SELLECK, LYNN WAIHEE, JOHN WAIHEE, GOVERNOR LINDA LINGLE, DAVID COPPERFIELD, SIEGFRIED & ROY, PAUL DANIELS, LANCE BURTON, DICK CLARK, comic LOUIE ANDERSON, PENN & TELLER, RICH LITTLE, "CHARO", DON HO, RAP REPLINGER, FRANK DELIMA, ANDY BUMATAI, GLEN MEDEIROS, JAMES GRANT BENTON, RONN LUCAS, RED SKELTON, MICHAEL DAVIS, MICHAEL MARLIN, THE UNKNOWN COMIC, KAREN KEAWIHAWAII, STEVE MARTIN, DOUG HENNING, Saturday Night Live head writer A WHITNEY BROWN (with the "BIG PICTURE"), KAM FONG, MOTLEY CRU, DEF LEPPARD, ISRAEL KAMAKAWIWAOLE, MUHAMMAD ALI, KEVIN JAMES, and many more. (Photo above left - Mike designing Giant Ultraviolet Creatures for "NEMO SOUZA'S MYSTERIOUS ISLANDS" "FIRST NIGHT" - 1989)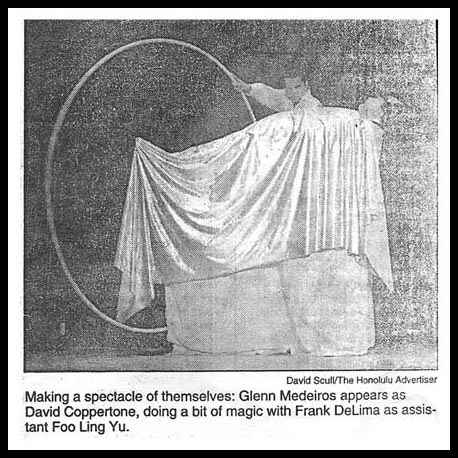 Mike also helps with fundraisers, pulling in many thousands of dollars for local charities by producing performing at numerous Community Service Events:
Photo above right - MAKING A SPECTACLE OF THEMSELVES - Glen Medeiros appears as "David Coppertone" doing a bit of Magic with Frank DeLima as Assistant "Foo Ling Yu". - Honolulu Advertiser Photo by David Scull)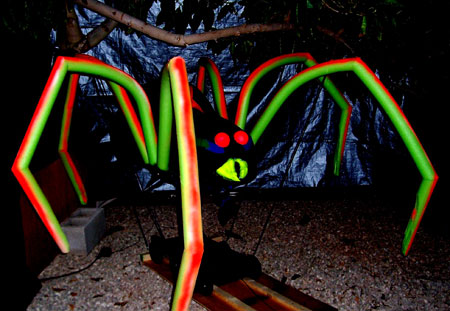 "Christmas 2005" for SALVATION ARMY CHILDREN'S HOLIDAY PARTY • "1st Annual KEIKI MAGIC TRIATHALON" (Ala Moana MAGIC ISLAND - July 17, 2004) • "Camp Anuenue" for HAWAII CHILDREN WITH CANCER (Mokuleia - 2003) • "Breakfast with Santa" for PREVENT CHILD ABUSE HAWAII (Manoa Grand Ballrooms - 2003) • "Magic & Comedy Blast!" for the HAWAII CHILDREN'S CANCER FOUNDATION/HCCF featuring Ronn Lucas, the World's Best Ventriloquist; Augie Tulba; celebrated Island Magicians (2001) • The FIRST LADIES' VOLUNTEER AWARDS benefiting several charities. (Photo above left - Special EFX: A Giant walking "Ultraviolet" Spider (7' across!) thrills guests at a charity event. Design © Mike Ching 2005)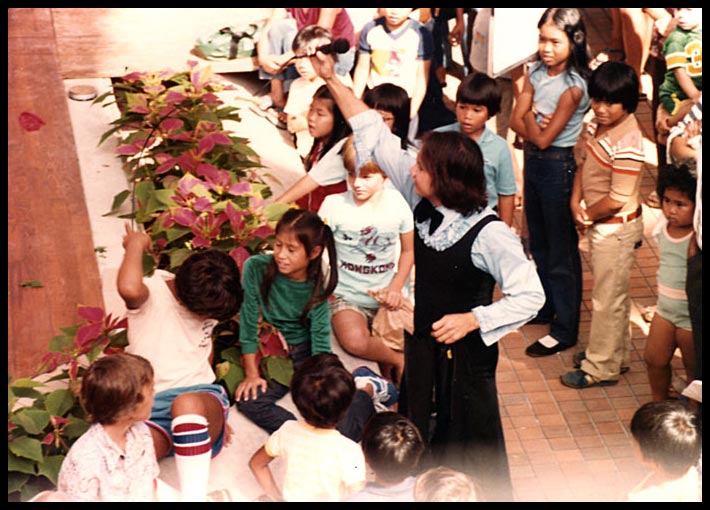 Hugely Successful Special Effects HAUNTED HOUSE Attractions:

"TERROR AT THE TOWER" for HAWAII JUVENILE DIABETES ASSOCIATION (Aloha Tower - 1996) • "BLOODBEARD'S CASTLE" for MARCH OF DIMES & HUGGS (Old Beretania Police Station - 1993)
Mike welcomes your suggestions about how he may be of service to the Hawaii community. Please e-mail your ideas at the link below. He is available every Christmas season for deserving families and associations and throughout the year for charities that benefit children or cancer research as an homage to the memory of his good friend Cheryl Kohashi Domzalski. (Photo above right - Mike as the first Performer on Ala Moana's NEW CenterStage!)